Re-accreditation of public scientific institutes is carried out in accordance with the Procedure for Re-accreditation of Public Research Institutes – revised text of 10th March 2014 (CLASS: 640-02/12-02/0002, REFERENCE NUMBER: 355-01-14-6).
Dimenzije vrednovanja znanstvenoistraživačkog rada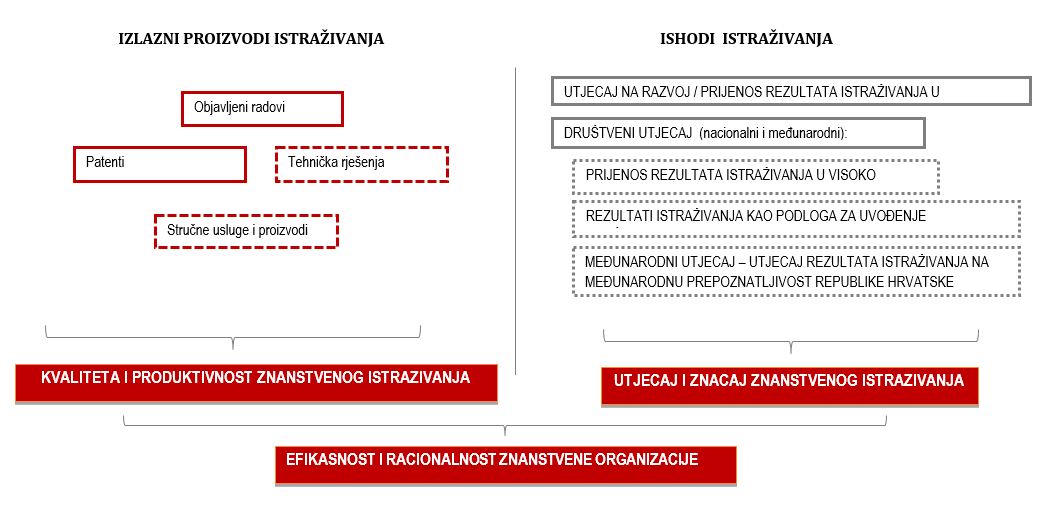 SCIENTIFIC INSTITUTES EVALUATION CRITERIA
SCIENTIFIC QUALITY can be viewed as a measure of excellence. It means that the scientists are able to conduct scientific research at the highest level and that the research is recognized as such throughout the international and national scientific community. Quality rests on expertise, ethics and public character of research concepts and research, which is evident in the achievements of researchers and research groups, which serve the development and well-being of society. As a rule, quality is evaluated through peer reviews (evaluations carried out by competent fellow scientists in the same field of research). In performing reviews, reviewers rely on their own knowledge and expertise, their insight into the conduct of scientific research as well as access to various information on the research results and outcomes, and on the institution as a whole. Research quality can be measured through a clearly expressed expert opinion and the impact of research results in a wider community, which is typically reflected in citation indicators.
SCIENTIFIC PRODUCTION refers to the measurement of an institution's output, or the number and manner in which scientific results and new scientific findings are published. Productivity is usually measured by quantitative bibliometric indicators, or indicators relating to the type and number of publications and other scientific activity products. Indicators are evaluated in terms of the number of scientists in an institution, strategic orientation of an institution and other factors.
SCIENTIFIC IMPACT AND SIGNIFICANCE is a criterion by which the impact of scientific research on the development of society and economy and the application in practise and usefulness of such work is assessed. Under this criterion, the choice of research topics (relevance, significance and fitness for purpose) is crucial, which are evaluated in relation to the context and environment of action, and the institution's strategy to bring their work closer to stakeholders in society and economy. The impact can therefore be assessed through the benefits of scientific work for a positive community development, and the impact of research on the issues relevant to society as a whole. In this part of evaluation qualitative and quantitative methods are used.
EFFICIENCY AND RATIONALITY OF A SCIENTIFIC ORGANISATION refers to the assessment of an organization and the process of management of the institution as a whole. This criterion is directly influenced by the previous three criteria. In order to be efficient, a scientific organization should have high-quality research, good production of scientific research and the results of scientific research should have an impact on the economy and society as a whole. To show responsibility towards public funding, in achieving its objectives a scientific organization should rely on the cost-effectiveness principles in the use of public resources, which refers to the potential for their maximum utilization in the fulfilment of their scientific mission as well as their economical and transparent use.