U sklopu EU projekta SKAZVO, Agencija za znanost i visoko obrazovanje od 2018. godine provodi radionice za nastavnike visokih učilišta u Hrvatskoj i karijerne savjetnike na visokim učilištima te studente s ciljem pružanja podrške razvoju usluga profesionalnog usmjeravanja u visokom obrazovanju te unaprjeđenju postojećih i osnivanju novih karijernih centara.
Od 2017. do kraja 2020. godine održana su tri ciklusa, unutar kojih je realizirano 17 radionica. Sudjelovalo je 513 sudionika (karijernih savjetnika, visokoškolskih nastavnika, studenata) uz napomenu kako navedeni broj sadrži ukupan broj sudionika na svim radionicama uključujući i sudjelovanje osoba na više od jedne radionice.
Obrađen je širok raspon tema poput: planiranje i upravljanje karijerom temeljenom na kompetencijama, metoda karijernog procjenjivanja i savjetovanja studenata, karakteristike milenijskih studenata, poticanja i prepoznavanja poduzetničkih namjera kod studenata itd.
Sudionici su ocijenili održane radionice visokim ocjenama – prosječna ocjena iznosi 4,84. Korisnost, odnosno mogućnost primjene stečenog znanja u poslu, sudionici ocjenjuju prosječnom ocjenom 4,68. Pri tom ističu kako im je osim teorijskog znanja, posebno korisna razmjena iskustva s drugim kolegama, umrežavanje te praktične vježbe i zadaci. Većina ih je izrazila interes za daljnje radionice te iznijela i konkretne teme koje uporište nalaze u njihovoj svakodnevnoj praksi. Upravo na temelju prikupljenih prijedloga, AZVO je planirao daljnje radionice, a zbog iznimno dobrih povratnih informacija, ciklus Karijeriranje nastavit će se i u 2021. godini.
U nastavku je analizirano deset upitnika od kojih je osam iz prve godine održavanja (2018.), te po jedan iz 2019. i 2020. godine.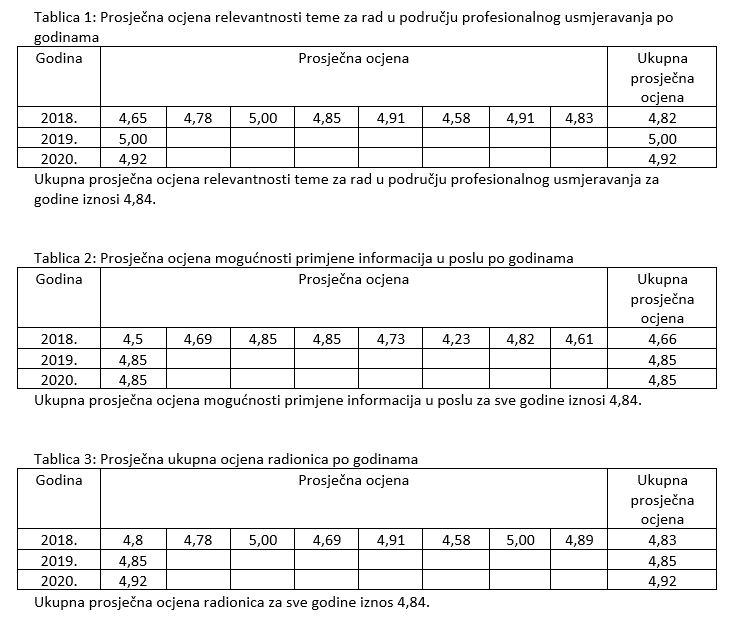 Komentari sudionikaŠto ste novo naučili na ovoj radionici?
Konkretne načine kako osnovati karijerne centre i sve pomoćne službe
Niz konkretnih primjera i praksi koje su brzo provedive
Najviše o strategiji i uključenosti dionika u razvoj i kasnije implementaciju i evaluaciju strategije
Sve kako upotrijebiti design thinking u svakodnevnom radu
Kako se staviti u ulogu studenta i vidjeti što je njima potrebno i kako to realizirati
Naučila sam kako krenuti u rješavanje potencijalnog problema; tj. kako motivirati studente da prihvate mogućnost sudjelovanja u edukacijama koje im karijerni centri nude
Novi i moderniji pristup te analiza problema usko vezanim uz društvene vještine (socijalne)
Upoznavanje faza, odnosno faza perspektive studenta što će pomoći kod definiranja problema i rješavanja
Upoznavanje s problemima/izazovima drugih sudionika radionice koji su zaposleni na raznim učilištima
Prezentacijske vještine – praktični savjeti
Kompletno konceptiranje karijernog tjedna
Tijek pripreme organizacije događaja
Što je socijalni kapital i njegova uloga u kontekstu razvoja karijere
Dispozicijska zapošljivost
Metode potrebne za donošenje važnih karijernih odluka i nove načine kako u tom smjeru usmjeriti daljnji rad matične institucije
Konkretne tehnike i metode povezivanja s alumnijima. ideje za rad s mentorima, primjere dobre prakse
Koje su značajke i kako pristupiti i razumjeti specifičnosti milenijalaca (studenata)
Razlozi za generacijske promjene, metode rada za određene karakteristike
Procese, načine rada, priprema (podloga) za rad u poticanju karijernog savjetovanja
Psihološki pristup proučavanja poduzetništva generalno, a i kod studenata te neke statističke podatke i trendove
Naučila sam da kao karijerna savjetnica mogu educirati i ohrabrivati studente kako se postaviti prema poduzetništvu i samozapošljivosti
Procjena karijerne zrelosti i karijerne orijentacije
Analizirati kritički podatke; promatrati važnost istih za donošenje zaključaka za buduće odluke
Definicija profesionalnog identiteta i što utječe na njega
Upoznavanje s aktualnim trendovima u području, te s novim paradigmama razvoja karijere.
Što Vam je bilo najkorisnije?
Sustavni pregled na razvoj karijernih centara
Mnoštvo novih ideja, smjernica i prijedloga koje će se moći iskoristiti za unaprjeđenje centra
Novi kontakti
Razmjena međusobnih primjera u praksi
Ideje za poboljšanja pojedinih aktivnosti
Ideje za dan karijera
Primjeri iz prakse s europskih fakulteta
Grupni rad, razmjena iskustva, networking
Upoznavanje faza, odnosno faza perspektive studenta što će pomoći kod definiranja problema i rješavanja
Upoznavanje sa problemima drugih sudionika radionice koji su zaposleni na raznim učilištima
Rad u grupama i na konkretnim primjerima
Konkretne tehnike smanjenja treme
Spoznaja novih pojmova i njihovo implementiranje u radu i razvoj vlastite profesije
Know how
Informacije o organizaciji u smislu praktičnih tehničkih dijelova
Spoznaja pojma socijalnog kapitala, njegove korelacije s ljudskim kapitalom te kako ga primijeniti u praksi zapošljavanja diplomiranih studenata
Strategije traženja posla
Istraživanja koja ste proveli na studentima i mentorima o zadovoljstvu stručne prakse.
Primjeri poslodavca iz razvojne agencije
Izvrsna kompetencija predavačice da svoja stručna znanja prikaže u širokom društvenom, povijesnom...kontekstu, nešto na čemu bi svaki predavač trebao raditi, a to je zapravo rijetko
Kako pristupiti milenijalcima u okviru nastave
Osvješćivanje "postojanja" milenijalaca i njihovih "specifičnosti"
Osvijestiti što sve utječe na određene generacijske obrasce
Povezivanje ključnih poduzetničkih osobina
Individualni karijerni plan
Kako osmisliti i organizirati karijerno savjetovanje
Stilovi donošenja karijernih odluka
Metode razvoja profesionalnih identiteta kroz razvoj kompetencija unutar studijskih programa
Pojašnjenje pojma profesionalnog identiteta kroz njegove tipove i primjena na usmjerenje studenata kroz životne i zanimljive primjere
Rasprava o pristupu i radu sa studentima; pogotovo u pogledu pitanja očekivanja.
Predložene teme:
Regulativa karijernih centara
Predavanje / rasprava s primjerima dobre prakse kao jedinom temom
Service design
Poslovna komunikacija
Pisanje životopisa i priprema za razgovor za posao (za studente)
Prezentacijske i komunikacijske vještine
Mini simpoziji za godinu dana – radi razmjene iskustva evenata
Hodogram za neko konkretno događanje
Nastavak edukacije o ovom području, povezivanje polaznika, formiranje mreže karijernih savjetnika
Nastaviti s ovakvim educiranjem jer su prijeko potrebne ljudima koji su zaposleni u sektoru visokog obrazovanja
Follow – up – koordinacijski sastanak za razmjenu konkretnih iskustava
Radionice za generičke vještine (soft-skills)
Uključiti poslodavce kao predavače, koristan je njihov feedback
Društveno korisno učenje
Teme o motiviranju studenata te događanja kao što su volonterske akcije, karijerne radionice, Erasmus
Želje i potrebe poslodavaca
Kako biti mentor (iz perspektive poduzeća/menadžera i perspektive profesora / karijernog savjetnika)
Uloga emocionalne inteligencije prilikom zapošljavanja
Studenti s invaliditetom
Sudjelovanje zajedno na EAIE konferenciji (9. mj svake godine), "Novi ciklus" karijeriranja, odnosno daljnje usavršavanje karijernih savjetnika
Pozvati studente i poslušati njihovo poimanje o karijernom savjetovanju iz prve ruke
Nastaviti u ovom stilu koji uključuje iznošenje novih znanstvenih spoznaja i metodika uz praktične primjere i njihove primjene u praksi.