The Agency for Science and Higher Education has adopted a Decision on the implementation of external evaluation procedures during COVID-19 (SARS-CoV-2) pandemic:
DECISION ON THE IMPLEMENTATION OF EXTERNAL EVALUATION PROCEDURES DURING COVID-19 PANDEMIC
The initial accreditation of study programmes is a procedure of external evaluation of the quality of new study programmes proposed by private higher education institutions and public polytechnics and colleges, with the exception of study programmes delivered by public universities.
The aim of the initial accreditation of study programmes is to assess whether the proposed programme meets the necessary quality standards.
The purpose of the initial accreditation procedure is to ensure that the proposed study programme meets the necessary quality standards so that the higher education institution can start delivering it, but also to encourage improvements of the new programme which is monitored in the follow-up procedure.
New higher education institutions and study programmes, approved in the initial accreditation procedure, are subject to quality evaluation within the procedure of re-accreditation of higher education institutions.
The new model of initial accreditation was adopted in 2020.
The scope of the evaluation
The evaluation of a new study programme includes a quality analysis and an assessment made by an expert panel according to a three-point scale and previously defined quality standards, divided into four areas of institutional activity:
Study programme,
Teaching process and student support,
Resources.
Procedure and Documents
The request for initial accreditation of study programmes is submitted to the Ministry of Science and Education, which forwards it to the Agency. The Agency carries out the procedure of initial accreditation based on the following documents:
The Accreditation Council's Conclusion defines the conditions under which the higher education institution will not be able to submit a request for initial accreditation of a new study programme.
Online study programmes are also subject to an additional evaluation in accordance with the Criteria and procedures for the evaluation of online study programmes.
INITIAL ACCREDITATION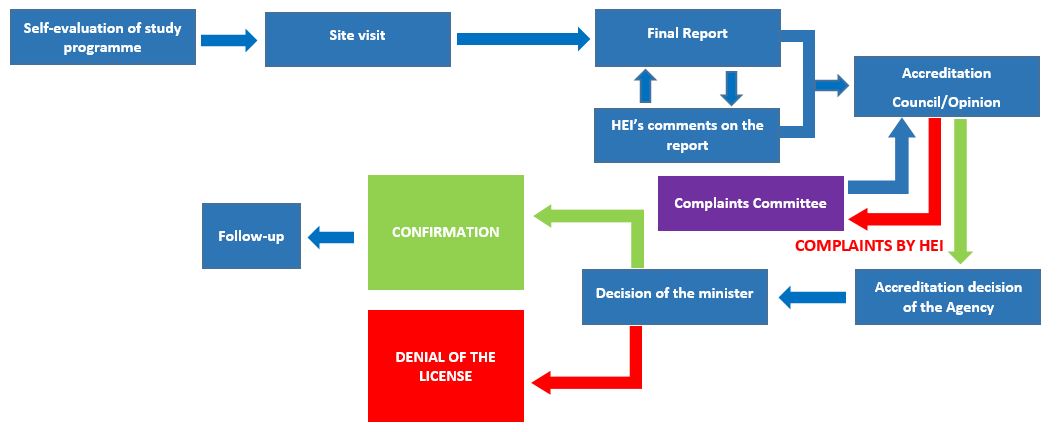 Outcome of the procedure
Based on the expert panel's final report and the higher education institution's official statement, ASHE's accreditation Council passes an expert opinion. On the basis of the Accreditation Council's opinion, ASHE issues an accreditation recommendation to the competent minister for one of the following outcomes:
Issuance of a license for delivering the new study programme;
Denial of a license for delivering the new study programme.
Complaints and appeals
The opinion of the Accreditation Council is submitted to the higher education institution which can submit an objection due to violations of accreditation regulations. The complaint is settled by the Complaints Committee. The Committee's opinion is submitted for decision to the Accreditation Council.
Follow-up
The higher education institution shall submit a report on the successful delivery of the study programme and realization of expert panel's recommendations for quality improvement every year from the start of delivery of the study programme until the first generation of students enrolled in the study programme graduates.